What happens if I die without a will?
This question has popped up enough lately that we thought we would share some comments on the matter.
If a person dies without a Will, or a valid Will, they are referred to in law as having died "intestate".  Under the rules of Intestacy, the law sets out firstly who has the power to take charge of the deceased's assets, and secondly who is entitled to receive them by way of inheritance.
The flowchart below lays out the rules of intestacy for Northern Ireland and should help you understand what would happen to your estate if you do not leave a will.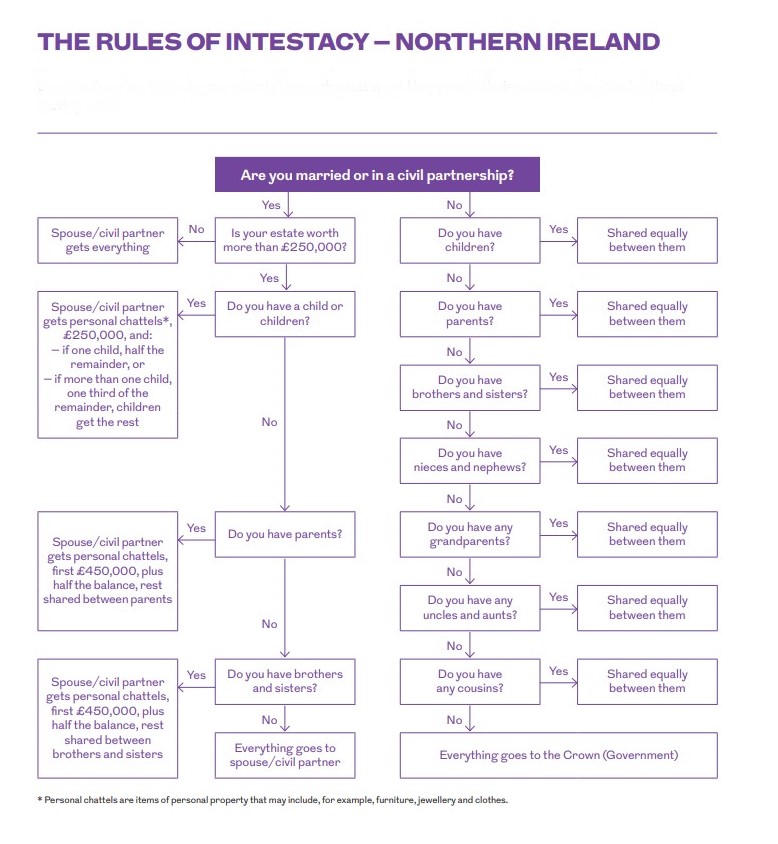 We've included a couple of case studies to help paint a picture..
Thomas's case:
Thomas was a retired farmer who had saved throughout his life and amassed a tidy nest egg. He never married and had no brothers, sisters, or children.
Towards the end of his life Thomas suffered from considerable ill health and at this time he was cared for by a cousin and her husband who took him in when he was unwell, cooked for him and made sure that he was cared for.
Whilst it was generally accepted that Thomas would have wanted to benefit this caring cousin for her help towards him during his lifetime, unfortunately, he did not make a will.
Accordingly, his estate was distributed between three cousins on his mother's side of the family, and four cousins on his father's side of the family – some of whom he had never met before and only one of whom had any real influence and support in his life.
Julie's case:
A dispute arose when Julie died and left no will. There was an argument between family members as to whether she would have wanted burial or cremation.
Then when it came to the distribution of family mementos, pictures, ornaments and jewellery there was again a family dispute in relation to the division of those items which resulted in the administrator having no choice but to arrange for a house clearance, and all family items were sold at auction.
The DNA case:
Sean had not made a will and his estate therefore had to be distributed as an intestacy.
Being unmarried at the date of death, the intestacy provisions provide for the whole estate to pass to any children equally, or if they have pre-deceased, to grandchildren.
The solicitors were instructed by Sean's daughter who expected to inherit the whole estate, as her brother had died many years earlier as a teenager while still at school.
Further investigation revealed that Sean's son had fathered a child as a teenager. The solicitors instructed an enquiry agent to trace the mother, and eventually, were able to trace Sean's granddaughter. Their client had never had any contact with her niece.
According to intestacy rules a half share of the estate would now pass to their client and the other half would pass on statutory trusts down the bloodline to the granddaughter.
In addition to receiving half of the estate of her late father that she never knew, the beneficiary also gained an aunt she had previously never met.
It is important to be aware that a 'common law' wife or husband, now more commonly referred to as an unmarried partner, has no legal right to share in the estate of their partner.
If you've any questions get in touch.